Fresh Out of Tackle Shop
Frankly I cannot remember when is the last time I walk into a tackle shop to buy a reel. Those budget Shimano reels have serve me very well indeed over the years, of course I do give them some care like giving them a shower after each trip and service them once in a while.
When the Shimano Aernos FA series is launched in our sunny island, I didn't pay too much attention to it as I thought this is the previous version of Aernos getting a color facelift. I do have an older generation AernosXT C3000 reel, and am not too impressed by it.
Comes with Reel Package
While doing some research and downloading schematic drawings for some reels, I chance upon this reel again and study it more in detail, oh boy the specs does look impressive. After getting some help from local anglers to check the pricing, I did ever declare that at this reel is one of the Best Value for Money reel at present.
So what prompt me to buy this reel? First off, as you can see from the picture, it comes with a spare spool with the reel, and the impressive bearing count. More importantly, this reel have Ball bearings where you wanted it most, namely two for the Drive gear, one for Pinion gear, one on the roller, and one on the Eva handle. It would prefect if they can just add one more for the oscillating gear. And of course to put my money where my mouth is, since it is such good value for money, I just have to buy it.
Repairable Clicker
There is no way for me to inspect the reel in details without making putting down some money to bring the reel home. Once I give this reel a much closer inspection there more impressed I am with the value for money factor.
Ball Bearing Supported EVA knob
As mentioned earlier, the reel package comes with an identical spare spool and washer for you to adjust the reel height should you require when you change the spool. You might have notice that these are ported spools, I think it serve no purpose other then to reduce the weight. Nice touch to throw in the washer, small it might be but important when you needed them. The clicker are the 'Repairable' version as well, instead of deadbolt fastener at the spool clicker, this one uses a screw to keep the components in place, thus can replace the spring when it loss it's tightness.
The reel handle is solid piece with Ball Bearing supported EVA knob, I am surprised by the EVA knob as most EVA knobs are offered by after market manufacturers, seldom being offered as an standard item that comes with the reel. Noticed that on one end is a bushing instead of a bearing, I wonder why, need to study the schematic.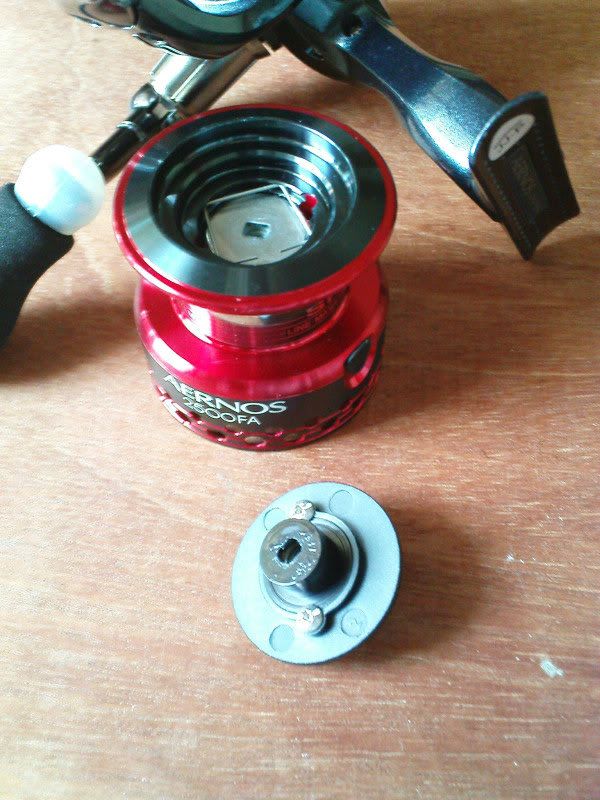 Non Waterproof Drag System
Now, some stuff features that doesn't comes with the reel. This is NOT a X-Ship model, instead it is a Shimano P4 model, no idea what are the P4 features, but in my view this does not comes with the wormshaft system instead this uses an Oscillating gear.
3 Felt Drag Washer System
The drag system is Non-waterproof, and deploys 3 drag washer. While I wish that it comes with carbon drag washer, there is nothing wrong with the felt drag washer. I could change it in future.
I am not sure why, but the first time I see the physical reel at the tackle shop, my first comment are the body does look a bit bigger then usual. No sure if it is the chrome colored accent at the reel body or this reel uses gears that are larger then that I am used to. Can't really really tell until I open up the reel.
Body does look a tad big
Out of box, the cranking feels heavy but smooth, I am sure it is just that the amount of lithium grease they put inside the reel. It is just that I am not use to such heavy greasing, as all of the reels I serviced all have just thin coat of grease. I am lazy to do anything to it now, so will use it as it is for a start till I feel the need to give it a full service and layer the grease used to my liking.
So after finding much more about the reel, I still think this is one of the best value for money reel right now. The two spool gives our local angler to use this reel for different type of fishing applications, e.g. One spool with heavier line with mono backing for pond fishing and other with light lines for the extremely popular micro jigging.
The SRP is SGD 135 for the 2500 sized reel, check with your favorite tackle shop for any discount they can offer you to get it at a better price.
I got mine at Top Gear Fishing Tackle, one of the Shimano Reseller locally. And kudos to the lady boss who extended her advice to me. I wanted to buy a JDM Alivio C3000 reel as I wanted just the spool, instead she say she help me to get the spool when she can easily sell me a brand new reel. End up I placed order for the JDM Alivio C3000 spool and Elf C2000 spool. Good customer service even when I am buying Stella, Twinpower, or any expensive reel, unlike many other tackleshops which are not keen to entertain you are not enquiring expensive stuff.
Disclaimer - This reel is NOT a sponsored by Shimano or any tackle shops. It is purchased at my own expense.