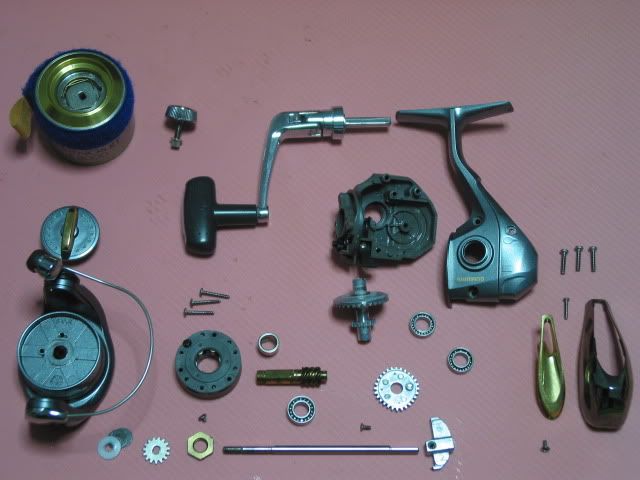 This is a picture intensive posting, but I will put up the images in Thumbnail (as for this series of Reel Maintenance), these images are for reference mainly as there is an old Chinese idiom, a picture is worth more then hundred words.
Most of us started fishing using a spinning reel, as it is easier to operate and also generally cheaper then a conventional reel. And usually your first experience using a spinning reel will be a budget model, either you purchase or borrowed from friends or family member. (No one in his or her right mind will lend an expensive reel to a newbie fisho)
Some friends I know can't be bothered to service these budget reels, they would only spend money to service the higher end models. However, budget reel can last a long time if one bothers to take a bit of time and effort to keep them in tip top shape. One fishing pal I know of uses the same budget reel and have landed hundreds of fishes, while mine have landed maybe a hundred plus and both of our reels are still going strong.
Many a time anglers are afraid to open up their reels to clean and re-lube them, worried that they will not be able to put everything back together again. Spend a little time and effort, that first reel that your parents buy for you (most likely hidden in your storeroom) could once again become your workhorse and rekindle the fishing passion that have long passes you by.
Before you start, please do make sure that you have the schematic drawing of the reel with you. In the older days, it is printed on a sheet of paper, while nowadays some are printed on the box itself. Having the schematic drawing will guide you along if you have lost your way while putting the reel back.

Some classic reels schematic are available off the web, Google for it if you can't find yours.


Disclaimer - Dismantle your reel at your own risk. I will NOT be liable for any responsibility if you are unable to re-assemble your reel back together.