Me with Silstar Teal 10ft
When I first start out with this form of fishing I uses an very old Silstar Teal 10ft, which is brought 2nd hand from an angler. He gave up using the rod because he have no idea how to use it. Then when Nimo found a huge stash of these rods at Siow Chiang, he organize a mass-order which clear out all their dead stock. Now there are at least a couple hundred of the Silstar Teal on our sunny island, but I seldom seen them in action when I goes fishing.
I still remember then first time I uses the Silstar Teal, it is on a kelong in Sibu Malaysia. The targeted species? Todak of course. With the lack of expert guidance, even with the correct rig, I have a high percentage of miss. Doubts start to creep into my mind, what an I doing wrong? When I get to know DesT, he gave me a lot of feedback and shared his own experience for catching todak, my rate for landing those todaks increase and give me more confidence to use this rod / form of fishing to target other species such as half beaks.
Wolf Herring On Silstar Teal
The next obvious target is the queenie, however queenie and my noodle rods doesn't seems to like one another, try as I might but that elusive queenie just wouldn't take my baits when I uses the Silstar Teal. However, I have much better luck with other species, it is during one of the nights at the kelong that I try to use the rod while hunting for ikan parang (wolf herring). It is not the most ideal rod for the job on actual fact, as when the fish is near, you have a hard time trying to steer it clear of those boats. However, it is damn bloody fun to catch them on these long soft rods. The rod did just what it's labels says 'Designed to put the fun into light line fishing'. It is quite possible that during these period that invoke my interest to pursue into light lines and tackles.
While I am very happy using this rod, I did notice that DesT is still having a higher landing rate then me. So what's the difference? Apparently it is the rod, while most of us would happily call the Silstar Teal as a noodle rod, it appears more like a float rod to me. Nothing wrong with using it with light lines, however I really wanted to feel the difference between the GLoomis and Silstar Teal. But by the time I intent to purchase the GLoomis factory noodle rod, then I learn that GLoomis no longer produces the factory noodle, but only the blanks. It is quite a heavy investment really when you are looking at around SGD400 to get one done. It took me a while to finally lay my hands on a custom built with GLoomis NR1382 blank. (How the rod finally landed on my hand is another interesting story by itself.)
The first time I fished with GLoomis
Once I have the GLoomis there is no turning back for me, I love the feel of the rod and fighting fishes on the other end of the line. It is more difficult to cast then the Silstar Teal for sure, but the feel and the way the rod feels is different. Hard to really put it in words, but heck there is a difference.
Again, todaks are my choice of target species and maybe because that's the de facto species whenever I uses the noodle rod. As times goes by, I wanted to try out how it will feel to have some other species on the other end of the line other then todaks. Luckily for me, the GLoomis and Queenie are not in conflict, i have hook up 2 or 3 queenies so far with the rod, but alas yet to land one yet. Twice the leader rub against some underwater structure and 8lb mono leader is no much for such obstacles.
I am drooling when DesT had this barracuda on his noodle rod at a kelong. I too wanted some other species, my guess is that I will need to work hard and go on trying out and experiment with different rig setup to target some other species.
My noodle rod journey have started for a few years already but by no means that it will end anything soon. It alreadys have been a trill whenever I have something on noodle rod, I don't think I will get tired of this form of fishing. While those species I mentioned can be landed with any regular fast action rod, it is simply more fun using a long soft flexible with that distinctive slow action with light lines.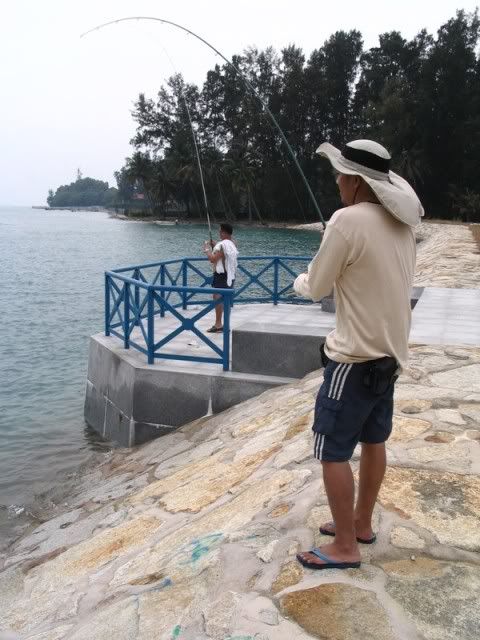 Next on my wish list in a 15ft noodle with North Fork Composites blanks, no idea when they will be pushing out this product, will just keep my finger crossed.