It have been a long time since I have fished at St John island, almost 8 months, due to the current flow does not suit us for our weekend trips. However today, the current flow suit us very well and after today, it is the month long Kusu island Pilgrimage, there will be no direct ferry service to St John for a month. Thus myself, DesT, Rookie, and a couple, Danny & Evon, decided to go Todak hunting.
In recent times, I didn't want to make trips up to Sibu kelong as it is pretty tiring and most of the bigger catches we have is Todak. And since St John island could yield a good haul of todak, albeit smaller, and is much less tiring and less hassle, I decided to put aside kelong trips for now for curing the itch of catching todak on light tackle by making a day trip to St John island.
For over a year now, I have been using a Silstar TEAL 10ft UL rod for todak catching. After much usage and abuse, the age of the rod shows, furthermore I like to use noodle rod a lot, I decided to buy over a GLoomis NR1382 from Edmund, a fellow fisho, and this trip is the rod maiden trip. Rdmund himself custom build the rod, with a slight difference to the factory built rod which is now discontinued.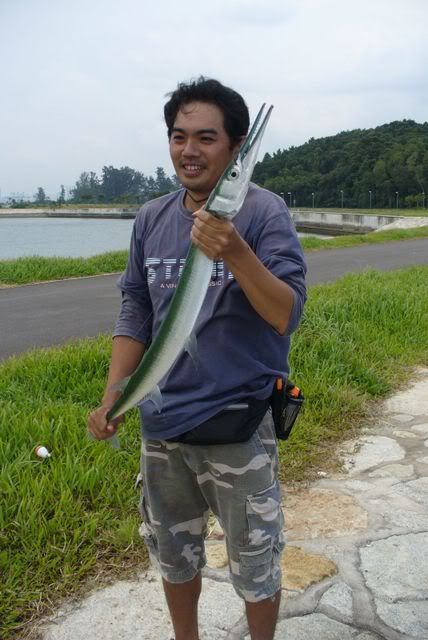 The trip haul is not impressive neither is the size of the todak, however I did manage to land a 100.5cm whooper, not too far off my personal record of 102cm in SG waters. My personal all time record is a 108.5cm at Sibu Kelong.
As usual, we all have a great time and before long we are all on board the ferry back to mainland. Everyone is visibly tired, but happy.
Will be back very soon to have fun with the Noodle rod, this is one rod I am sure I have no regrets buying it will serve me for a long long time, I hope.
~~~~~~~~~~~~~~~~~~~~~~~~~~~~~~~~~~
GLoomis NR1382
Modified Alivio 2500
4, 5, 6 lbs braided line, joined, with 12lbs leader.
Running float rig.